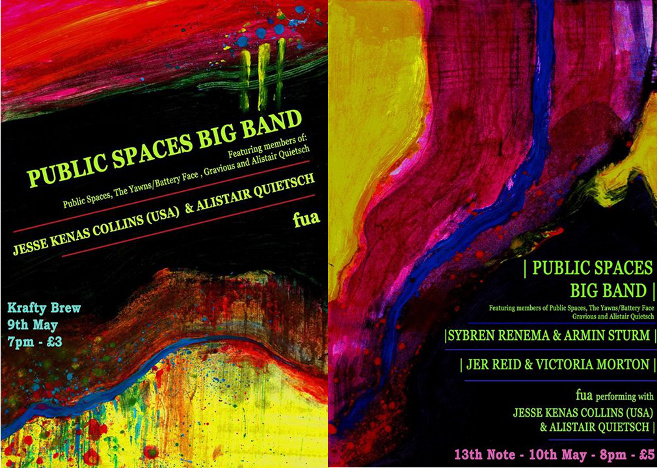 Hi all,
Long time no speak!
Quick update – I'm playing a couple of gigs this weekend as part of the Public Spaces Big Band. We are me, on synths and beats, two sax players, guitar, synths and bass. We are playing some low-slung, improv mashed up jazz and more.
If you fancy it, we'll be playing in Krafty Brew in Edinburgh tonight, Saturday 9 May, Doors at 7, £3 entry.
Line up for tonight also includes Jesse Kenas Collins (USA) jamming and our good buddy and Public Spaces band leader Alistair Quietsch, alongside local act fua.
Details here:
https://www.facebook.com/events/459018847588570/
We'll also be playing the 13th Note in Glasgow on Sunday 10 May, 8pm start, £5 on the door.
Alongside the same crew as the Edinburgh gig, we'll also have the excellent sounds of Sybren Renema & Armin Sturm, as well as Jer Reid and Victoria Morton.
Details here:
https://www.facebook.com/events/909124949138161/